How to prioritize irritants thanks to emotional analysis ?
Published on July 01, 2021  - Updated on April 12, 2022
How to prioritize irritants thanks to emotional analysis?
Throughout the consumer experience, the customer will emit different emotions. Even if a person's emotions cannot determine precisely what he will do next, they often have a great influence on his buying behavior as well as on others. In fact, 88% of consumers consult customer reviews before a purchase. It is therefore important to find out what irritates them in order to understand the problems and find solutions.
The appearance of irritants during the customer journey
1 - How to define an irritant?
Irritants are, by nature, emotional. It is things that make us feel irritated, frustrated or angry. They can be anything from the simplest thing, like a noisy neighbor, to more complicated sources of stress, like a difficult work deadline. So, how to prioritize irritants thanks to emotional analysis? 
An irritant can be a fact, an event that will annoy or irritate the customer during his experience. The irritant can have an unfavorable impact on the customer experience and loyalty or even prevent a purchase from being made. 
The appearance of an irritant is different depending on the field of activity. For example, packaging that is particularly difficult to open can be an irritant in e-commerce.
2 - Why should you check irritants?
An irritant appears following a bad experience in the customer journey. The appearance of an irritant can have more or less serious consequences on the image of the service or the brand. 
For example, the customer may have less confidence in the service or brand, which can lead to a decrease in loyalty or bad publicity. 
To remedy this problem and find solutions, Q°emotion provides a tool that allows the detection of irritants thanks to customer reviews.
The advantage of emotional analysis to identify pain points
You may wonder why you should add an emotional dimension to semantic analysis instead of a classic sentiment analysis. Indeed, most of the traditional semantic analysis tools propose to classify the reviews by sentiment: positive, neutral, or negative.
This can give you a good first idea of how the experience is perceived by your customers. On the other hand, some limitations appear when you want to prioritize action plans. How do you define if a negative review is a priority compared to another one? That's what emotions are all about.
Our solution identifies up to 6 primary emotions as well as the notion of calm. These emotions are happiness, positive surprise, fear, sadness, anger and disgust. 
As we can see in the illustration below, depending on the emotion felt by your client, the action plan to be implemented will be quite different!  
Emotional analysis is, therefore, more complete than a simple analysis of feelings and allows you to implement more precise corrective actions and above all prioritize these actions.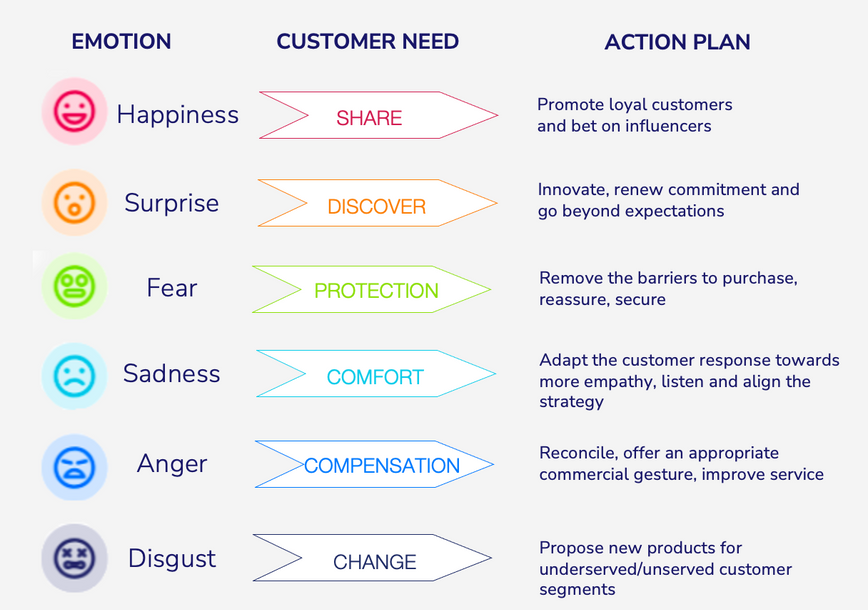 Identify new irritants with Q°emotion
Customer reviews are a valuable way to access customer feedback, ideas, and suggestions. These reviews allow you to collect diverse insights about your services and products. And they allow you to find areas for improvement and to stand out from your competitors. 
1 - How to analyze the emotions felt by customers?
In order to analyze a maximum of comments to find the points of delight and irritation of the journey, the algorithm will automatically classify all your customer reviews and then perform an analysis of textual data.
Thanks to this analysis, you will be able to directly see which emotion the customer wanted to express and
easily understand why this comment is representing an irritant as you can see in the verbatim below.
In this example, the poor customer service and response delay it highlighted
2 - How to identify the irritants in a customer journey?
It is also possible to see the criticized steps of your customer journey. The algorithm will automatically classify the feedbacks in the stages of your customer journey. You will be able to easily find the most critical steps of your customer journey. By identifying the irritating points, you will be able to find solutions and thus improve your service, brand...
As you can see on this insurance example, the steps have a more or less good E-index depending on the number of irritants present in these steps. You can then select one of the steps to have more details on the irritants of the chosen step
Once the irritants have been identified, you can also find key insights in just a few clicks in order to prioritize corrective actions thanks to the machine learning software Q°emotion.
Discover new insights thanks to the emotions you feel and prioritize your actions.
Find on the Q°emotion platform all the subjects addressed by your customers' thanks to the semantic analysis that will allow you to know your strengths as well as your weaknesses to improve on all comments.
You will be able to identify your irritants to transform these bad feedbacks into positive emotions in order to optimize the experience of your customers.
If you want to learn more about this topic, you can read our article about the customer journey.
Similar posts
Emotional and Semantic analysis of conversational data
Published on April 19, 2023  - Updated on April 19, 2023
Semantic and emotional analysis of conversational data The rise of direct messaging applications in customer relations Nowadays, messaging applications have become indispensable tools in the dai...
The power of emotional marketing to build customer loyalty
Published on February 06, 2023  - Updated on February 08, 2023
The power of emotional marketing Emotions play a crucial role in human decision making. Indeed, they can influence our perception of the value of a product or a brand, and direct our choice towards o...