10 most efficient customer review platforms
Published on September 09, 2022  - Updated on August 21, 2023
10 most efficient customer review platforms
Customer reviews have become very important in recent years. Whether it's to generate sales or to manage their e-reputation, all companies must be interested in customer reviews. Naturally, many companies are involved in this field and there are now many customer review platforms, so which one should you choose?
There are different types of customer review platforms. Of course, they can be different depending on your sector of activity, but also in the certification of the reviews.
Following the analysis of several million customer reviews since 2015 on the Q°emotion platform, CXinsights.io. We were able to analyze the comments of a large number of specialized sites. You will find in this article the most effective ones.

1. Google My Business 
It is undoubtedly the best-known platform. And for good reasons, Google is the leader in the search engine market. Now, as soon as you make the slightest search on a place or a company, you will find the comments of the users or visitors directly. The objective of using this platform is to reach a large audience and boost your traffic. To do this, it's very simple: just create a Google Business Profile account and enter your contact information and your site so your customers can leave you reviews. Users will also have access to your website, your phone number if it is given, your opening hours, etc. 
In addition to being very easy to use and accessible to everyone, it is free which makes it an excellent tool for collecting customer reviews and referencing your site.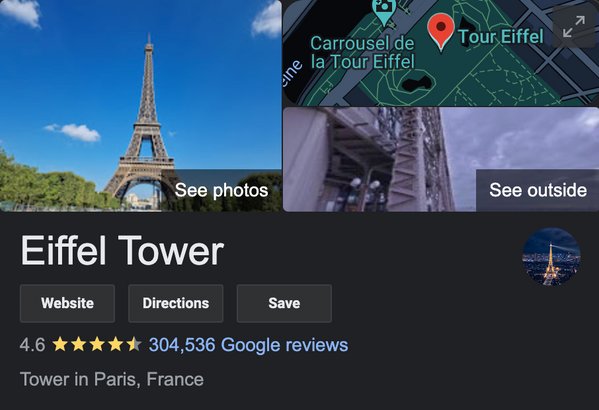 2. TrustPilot
Probably one of the most complete platforms on the market. Unlike Google, it is a platform entirely dedicated to customer reviews. It is also very easy to access, you just need to connect with an email address or a Facebook account. Trustpilot is a free platform (with some paid features like marketing resources, a Customer Success team, etc.) which makes it also a very good alternative to Google. TrustPilot is one of the major players in the sector, offering companies the possibility of displaying users' comments directly on their sites or certifying the authenticity of the verbatims.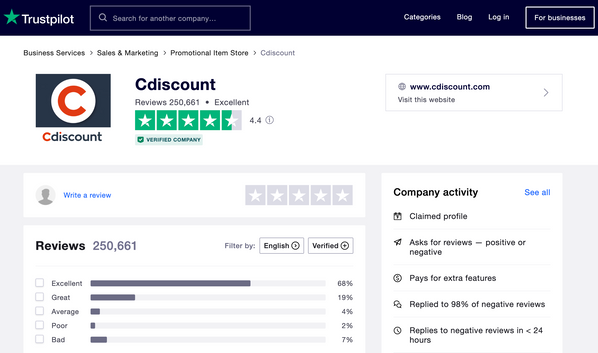 3. Verified Reviews

Verified Reviews is the first French platform for this article. Founded in 2012 and a subsidiary of the Skeepers group, Verified Reviews has quickly become a leader in France. One of the objectives of the solution is to fight against false reviews. To do this, they propose to only solicit visitors who have actually made a purchase. Like TrustPilot, it is also possible to display reviews on your company's website in order to reassure Internet users and encourage them to buy. It is also quite simple to use and allows you to measure customer satisfaction by collecting reviews. Verified Reviews is available with a monthly subscription fee of 59€.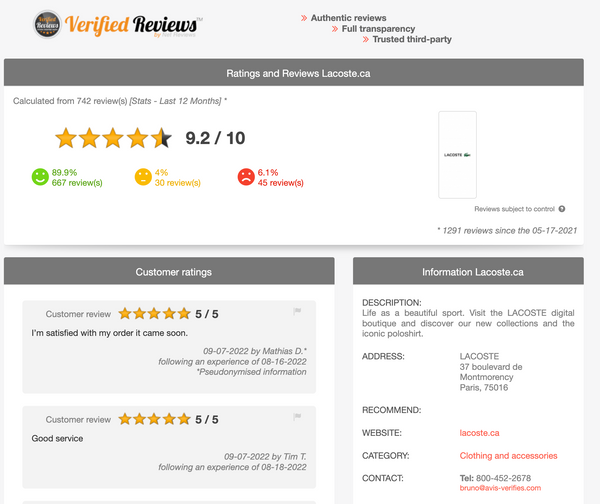 4. Critizr
The next platform we will talk about is Critizr. Relatively close in terms of functionalities to the previously mentioned sites: opinion collection, dashboard, satisfaction measurement. However, there is a messaging feature to allow teams to answer directly to customers via the platform. Critizr is quite established in the retail sector, it is a reliable tool that will allow you to solicit your customers and collect feedback.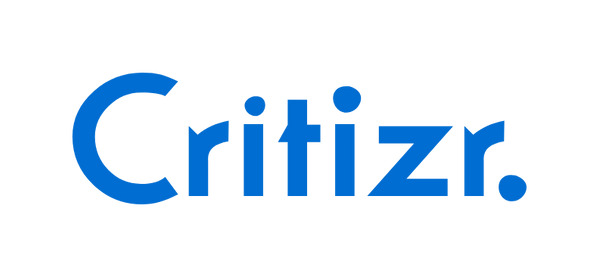 5. TripAdvisor
In the next part of this article, we will change of sector to tourism one! You probably know TripAdvisor, the world's leading platform for travel, hotels, and restaurants. It is a must for all professionals in the sector. Beyond the access to customer reviews, the platform allows its users to make a reservation directly on their site. This is an excellent opportunity for businesses to boost their traffic and sales. TripAdvisor is one of the biggest platforms in the world and is often very well referenced on Google which allows reaching a larger audience. Very easy to access and use, TripAdvisor is free. If you work in tourism, don't wait any longer, it's a must-have.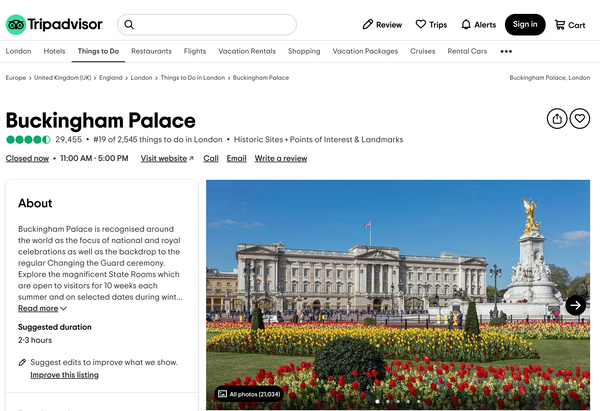 6. Capterra
We enter now into a much more specific part with Capterra. Indeed, this platform is specialized in software. It allows companies to be referenced on their platform and Internet users to leave a review after their purchase. With more than 1,100,000 verified reviews on the platform, it is the largest review platform for software. For visitors, Capterra is very practical in the search for a solution since it is completely free and allows to display of the different tools by categories, type of solution, etc. It is also possible to compare the software with each other. It is therefore a platform not to be neglected if your company publishes software.
7. Custplace
The next platform is also French, it is Custplace. It defines itself as a software for managing e-reputation and customer experience. All consumers of a brand can share their feedback with the brand on the site and thus help future customers to make their choice. For companies, it is a very good way to manage their e-reputation and also to boost the traffic of their site thanks to the recommendations of their customers. All users are required to identify themselves before leaving a review to maximize the reliability and authenticity of the latter. To access it, the monthly subscription to start is 55€.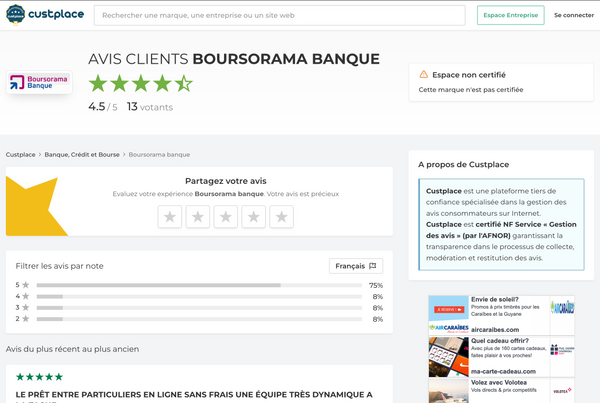 8. Société des avis garantis
The Société des avis garantis is well known to french e-commerce sites. Its specificity lies in the fact that it offers product sheets in addition to the collection and management of verbatims. It is a French platform that works in multilingual mode and offers to automatically translate the relevant reviews into French. Thanks to its multiple integrations (Prestashop, Shopify, Magento, Woocomerce, etc.) and its 30-day trial, it is a very easy tool to implement. The Société des avis garantis also offers a number of features such as customizing review collection emails, transferring reviews to Google My Business to generate even more traffic, the ability to moderate reviews, etc. The solution is available via a monthly subscription starting at 19,90€ and going up to 249€.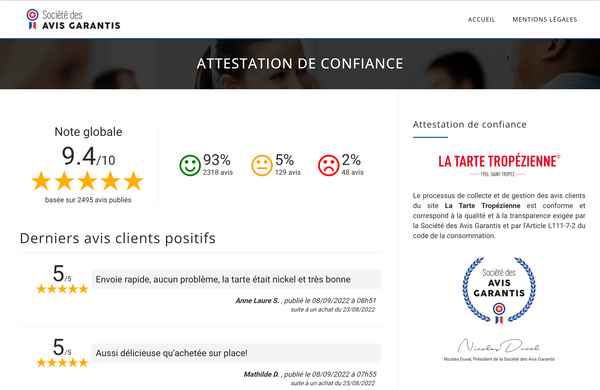 9. Facebook
It's not really a customer review platform as such since it's a social network. Nevertheless, I'm talking about it in this article because many users leave reviews on company pages. To start collecting reviews on Facebook, it's free, you just have to activate the feature in the page settings. To do this, you need to click on "Settings", then on "Edit Page" and finally on "Add Tab" and select "Reviews". The biggest advantage of using Facebook is the audience of this network. With about 41 million users per month, the traffic of the site owned by Meta is colossal. Thus, it often comes up very high in search engines and allows companies to improve their referencing and consequently their traffic.
It is therefore not a review platform to choose in priority but it is still interesting to create a page and collect reviews on it.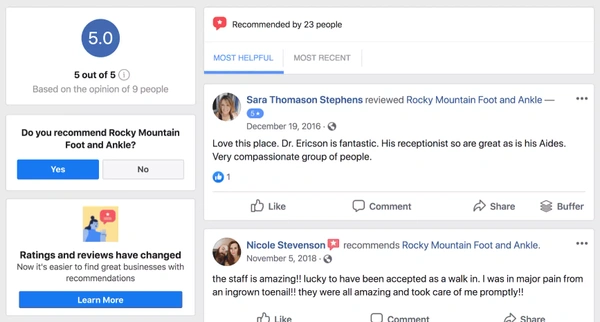 10. Yelp
The last platform we will talk about in this article is Yelp. Much more popular on the American continent, this customer review site is less popular in France. Nevertheless, it is important to follow the comments left by consumers on this platform and to answer them if necessary. If your business is focused on the European market, this is probably the least relevant platform in this article.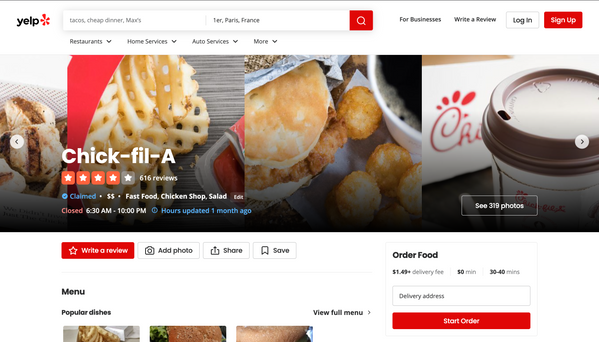 If you are interested in this topic, you can now discover how to semantically analyze your customer reviews in this article!